On March 18, 1852, our founders—Henry Wells and William G. Fargo—built an innovative start-up to help customers build businesses and manage money in a rapidly changing world. Their dedication to finding creative solutions and advocating for more inclusive communities continues to inspire generations of change-makers to build the history of what's next.
A history of always looking forward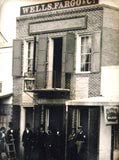 Henry Wells and William G. Fargo began their careers in the middle of a technological revolution. Trains, canals, and stagecoaches created more interconnected communities and economies. Demand grew for secure ways to send payments, and reliable places to access money, especially while traveling.
Wells and Fargo used their hands-on experience making deliveries of money and valuables by steamboat and stagecoach to develop a network of offices from California to New York and around the world. The network provided consistency and support for customers in a rapidly evolving economy. Using Wells Fargo, customers wary of doing business with distant partners knew they could depend on the local Wells Fargo agent to act on their behalf.
A lot has changed since 1852. New communities and industries have emerged and grown. Technology has made communication and bank transactions faster than ever before.
Across time, and in every generation, Wells Fargo has continued helping customers go further by providing innovative financial services to help them get ahead. Through prosperity, depression, and war, customers have turned to Wells Fargo for the solutions they needed to survive and thrive.
We're committed to continuing the Wells Fargo legacy of always looking forward by finding solutions and removing barriers to help our customers.
The Wells Fargo Stagecoach

From our early years in business through the 1910s, stagecoaches brought our customers closer to the things they valued. 
Now, more than a figure from our past, the Wells Fargo stagecoach is a living part of our American story and a symbol of how we're always driving forward.
Museum
Wells Fargo's deep and rich history gives us the opportunity and privilege of presenting a free museum that presents Wells Fargo's unique role in the growth of America and has been a strong reflection of local engagement. At the San Francisco museum you can see an original stagecoach, banking and express documents, working telegraphs, western art, gold coins, old money, and more.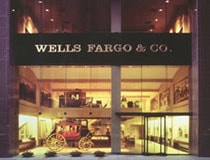 Free tours are available for all ages, with a special emphasis complementing state primary and secondary American history curriculums. Students learn of and experience the role of gold in U.S. history, banking, communication, and of course, traveling west by stagecoach. The museums also tailor tours for senior groups, college students, and business professionals. Teachers and tour leaders should call ahead for details and to schedule a tour.

On the site where Wells Fargo first opened for business in 1852, this museum features a Wells Fargo stagecoach that carried passengers and gold across the western plains, an impressive display of gold dust and ore from California's Gold Country, and a special collection of Gold Rush letters carried by hundreds of express companies.
Please contact the museum to schedule tours.
420 Montgomery Street [A0101-106]
(Just north of the California Street cable cars)
San Francisco, CA 94163
415-396-2619
Monday – Friday, 9:00 am – 5:00 pm

More about our San Francisco museum
Note : Wells Fargo is consolidating the museum program to focus on our San Francisco museum location and close the remaining 11 museum locations over the next 12 months. Serving as our global headquarters since 1852, San Francisco will be the only location to reopen when it is safe to do so.