Accept card payments in store and at the counter
A combination terminal, PIN pad, contactless reader, and printer that helps keep your point-of-sale (POS) costs low. 
Ready to go out of the box, the FD150 terminal offers a variety of features such as a touch-screen, large batch capacity, and no monthly software charges. Allows for keyed-in transactions but does not come with virtual terminal functionality. Comes with encryption and tokenization to help keep customer card data safe from fraud.
Pricing
Cost of device:
Transaction fee:
Your cost per transaction doesn't change based on the type of card your customer uses (Visa, Mastercard, American Express, Discover). Your rate is based on:

Business type – whether you accept most of your payments from consumers or from other businesses

Whether your customer's card is physically present or not

Total monthly dollar volume of the card transactions you process

As your sales grow and you meet the minimum for a lower rate in any given month, your rate will be automatically adjusted for the month.
No application fees, no monthly minimums, and no early termination fees.
Business to consumer (B2C) transaction fees
B2C merchants include restaurants, retailers, health practitioners, and any businesses that accept most payment methods from consumers. 
Your cost per transaction, based on the total dollar amount of card purchases you process in a month:
Business to business (B2B) transaction fees
B2B merchants include distributors, medical/dental suppliers, industrial suppliers, and any businesses that accept most payments methods from other businesses. 
Your cost per transaction, based on the total dollar amount of card purchases you process in a month:
Equipment
Built-in features
Integrated PIN pad
Receipt printer
High-resolution 5" touch screen
Dial-up, wired internet, or Wi-Fi connectivity
PCI 5.x Certified
Device dimensions: 3.50" H x 3.70" W x 7.87" L
Payment methods
Contactless payments/tap-to-pay
Chip cards
Swipe cards
Digital wallets (Apple Pay®, Google Pay™, Garmin Pay™, Samsung Pay)
PIN debit
Signature debit
Available add-on accessories
After your account is opened, enhance your device solution with select accessories by calling us at 1-800-451-5817.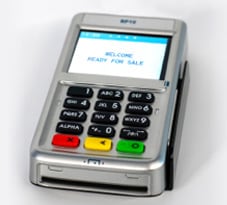 Customer-facing RP10 external PIN pad
This peripheral allows customers to pay by inserting a chip card or entering a PIN. Also takes contactless and digital wallet payments.
Other point-of-sale device options that may meet your needs
Clover® Flex
For businesses that want a portable device packed with powerful tools and the ability to print receipts. Comes with a virtual terminal.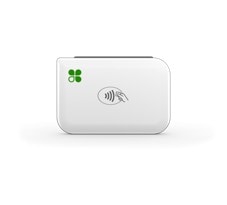 Clover Go
Accept payments on the go using your phone or tablet, and send receipts via email or text. Comes with a virtual terminal.